Tilt & Turn Window

Replacement Windows in Toronto & GTA, Vancouver, Edmonton, Winnipeg, Calgary, Regina, Saskatoon

The Tilt & Turn window is highest performing window in the industry. Unlike many other windows, the design utilizes twin seal compression with an overlapping sash and frame, which greatly reduces air, water and sound infiltration. Efficient use of internal walls adds strength and creates multiple chambers for added thermal insulation. The Tilt & Turn window has a proven design with more than twenty years of continuous, extensive use by satisfied customers .Examine the elegant, clean lines of the windows.
The hardware is cleverly concealed. A single handle locks and operates the window. The Tilt & Turn windows tilt inward at the top for ventilation and hinge at the side to swing in for easy cleaning and egress. The system can be configured in many combinations to create unique project designs which can include both tilt-turn doors and windows, specialty arch tops, and geometric shapes in flat wall, bay, or bow. The Tilt & Turn can also be used to create French doors, "atrium" doors, and other swing entry doors. You can even glaze large areas such as storefront and limited curtain wall! The possibilities are endless. check out our bow windows.
Euro Tilt & Turn 6000 Series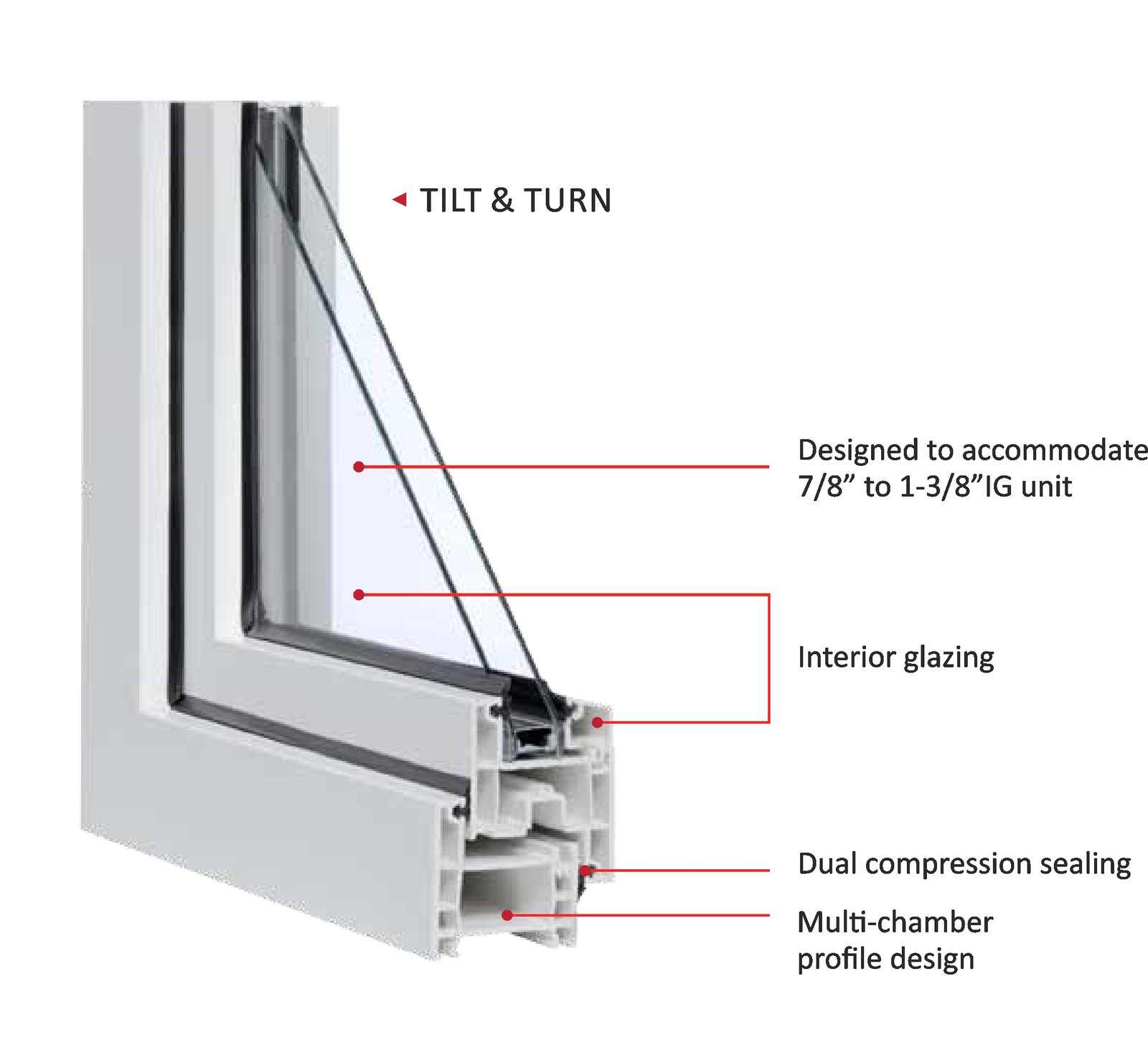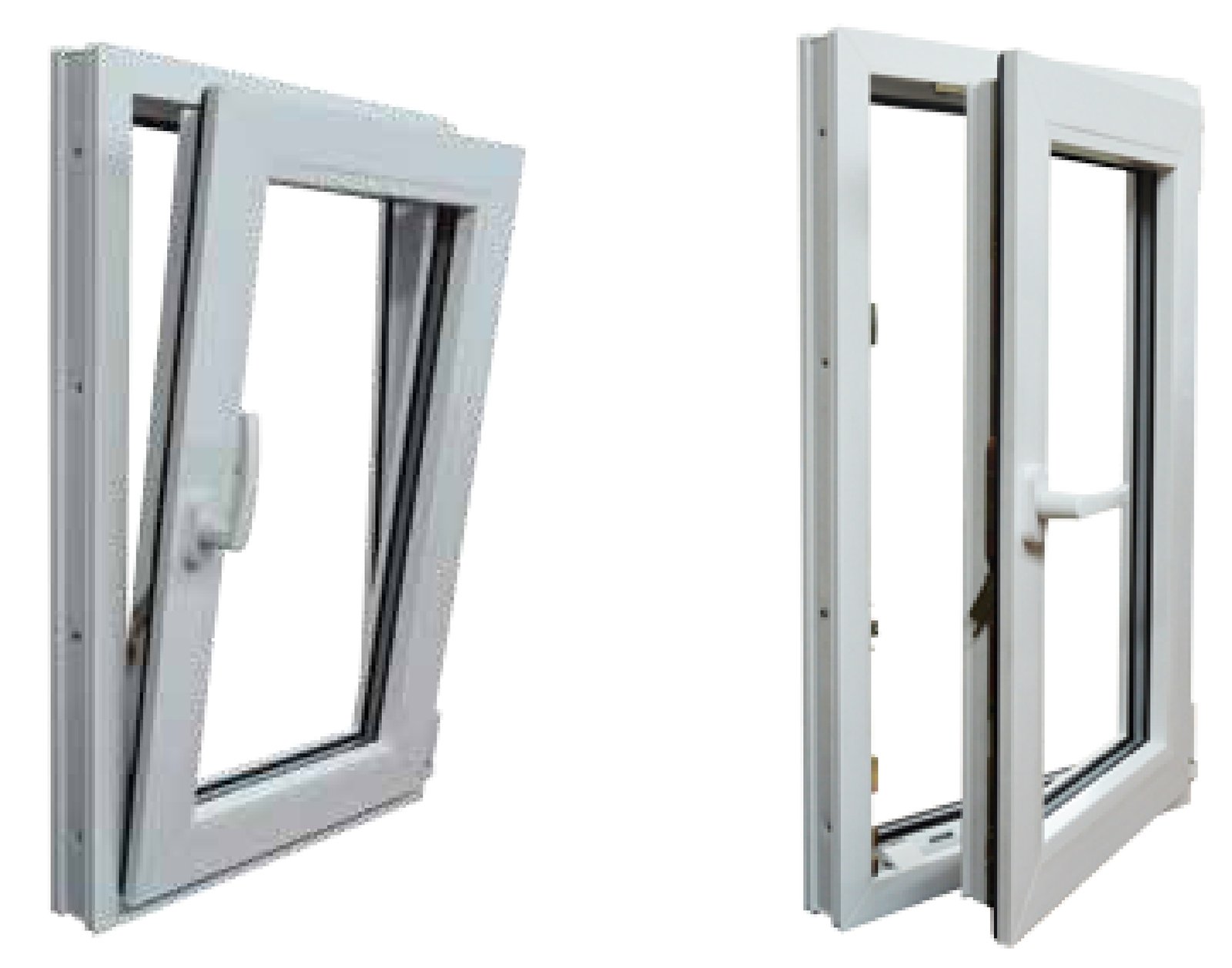 The EURO TILT & TURN 6000 Series window system is design with European engineering in mind and adapted to North American taste and lifestyle. Its Tilt & Turn concept offers versatility, comfort and safety. At its Tilt position, the window offers ventilation, while
providing security against break-in and preventing water from entering the interior. At its Turn or Swing position, the window sash can be
opened partially or in full for ease of cleaning and for Egress Fire Safety requirement. Its structural rigidity allows wider opening for more
incoming sunlight and unrestricted outdoor view. Its profile design,equipped with dual compression sealing technology, provides air-
and water-tight protection and comfort despite outdoor conditions.
Whether for your heritage home or your high rise condominium, this classic European style window system offers you beauty, comfort and safety.
• Commercial grade window system – suitable for high end residential,
institutional and commercial applications.
• Versatility in function – inward tilt position for secure ventilation,
inward swing or turn opening and tightly sealed closed position.
• Multi-functional sash operations of tilt, swing and lock with just
one handle.
• Designed to accommodate IG units from 7/8" to 1-3/8" thickness.
• Interior glazing.
• Sash opens inward fully for a classic European aesthetic, while
qualified for Egress.
• Also available in Casement, Awning, Fixed and Combination.
• Starting with 60 mm frame depth and 2.5 mm wall thickness.
Heavier version available upon request.
• Galvanized steel reinforcement for structural integrity and
operational reliability.
• Multi-chamber profile design for better thermal insulation and
sound barrier.
• Full perimeter, dual compressions seal in frame and sash.
• Designed to work with many hardware options.
• Fixed screen on exterior frame.
• Complemented by Euro-style Tilt & Slide patio door and Hinged
French door.
• Made with 100% Virgin PVC powder compound – formulated to
surpass AAMA requirements.

SKYREACH L&S Extrusions Corp. ("Skyreach") is a premier supplier of
extruded PVC profiles for windows and patio doors manufacturers/
fabricators.
With broad product offerings of window and patio door "open systems",
a fabricator can simply choose one or more systems suitable for its
needs. Full support in supply chain, engineering and fabrication tooling
is available. If customization is required, Skyreach also offers its "custom
profile" approach, including supports in design, tooling and testing to
ensure the project is completed from concept to completion.
Capstock colors
---
• Available stock inventory is in CREAM WHITE only. Additional solid
or capstock colors are available upon request.
Accessories
---
Choose from a selection of accessories!


Let's Get You FREE Pricing
Lifetime Manufacturer's Warranty

0 % Financing for 12 months
Getting pricing from WeatherPro is fast, easy, and free. Over 30,000+ homeowners trust WeatherPro
This month specials
limited time offer
MONTHLY PAYMENTS up to
$49 per month
ALL OFFERS: New customers only. Cannot be combined with any other offers specials. Please call for details