Weather Pro Windows and Doors
SuperSpacer® Premium Plus
Weather Pro uses SuperSpacer® Premium Plus for all its manufactured windows, designed specifically for the Canadian climate. SuperSpacer Premium Plus, provides the warmest, highest performance glass spacer on the market. SuperSpacer Premium Plus warm edge spacer is made of high-performance silicone material with integrally incorporated desiccant – which many designers and architects prefer. Even with its aesthetically pleasing narrow sightline, SuperSpacer Premium Plus delivers high wind load resistance, exceptional thermal performance, argon gas retention and long-term durability.
Durable edge seal, continuous vapour barrier at corners
Breathable, flexible foam matrix
High desiccant content that absorbs moisture
Pleasing aesthetic appearance
High-quality silicone for superior resistance to ozone, UV light and oxidation
Optimum values for energy efficiency (ψ-values up to 0.028*)
Enhanced comfort and well-being near windows
Excellent durability for sustainable performance
Higher productivity through ease of processing (only three process steps)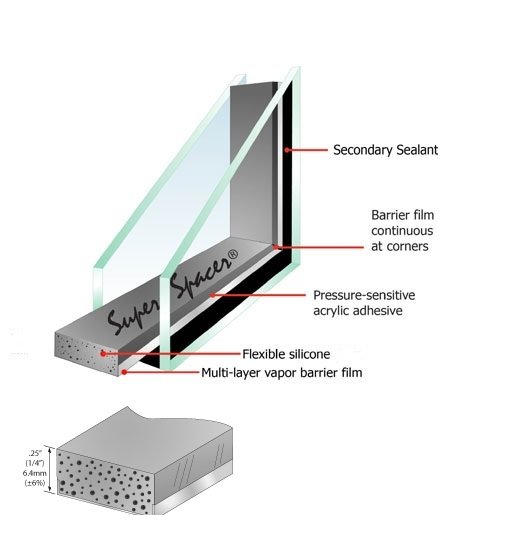 ALL SPACER SYSTEMS ARE NOT CREATED EQUAL.
THINK ABOUT what windows go through. They have to face extreme temperature changes all year. Plus, they're bombarded with UV rays, barometric pressure changes and nasty winds.
LUCKILY, there's a simple way to give windows an advantage in reducing energy costs, ensuring durability and adding comfort and value to any environment. Choose insulating glass made with TSS® Super Spacer®.
TSS TECHNOLOGY Super Spacer products are manufactured with Thermoset Spacer (TSS) Technology. Thermoset polymers are materials with crosslinks that become permanently set during the curing process. They have 100% memory, meaning they cannot be reshaped through reheating.Window spacing systems manufactured with TSS polymer and acrylic adhesives provide superior structural integrity. They will stand up to a wide range of temperatures, and they are configured with outstanding UV resistance.
Super Spacer gives you clean lines –great aesthetics.

THE FOAM ADVANTAGE "Thermal efficiency through no presence
of conductive metals" is Super Spacer's hallmark. The edge of the insulating glass unit is indeed the most vulnerable to heat and cooling loss, condensation and frosting. Super Spacer's NO-Metal formula blocks the heat escape path and provides one of the best thermal performances in the industry. That means it keeps the heat in during the winter and keeps the cool in during the summer. Super Spacer assures comfortable humidity levels with hardly any worries about condensation and mold.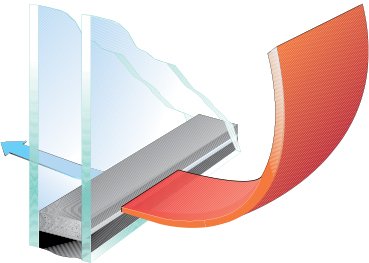 METAL CAN'T BOUNCE BACK the way Super Spacer can. Thanks to our Thermoset Spacer (TSS) technology, the spacer will expand and contract, but it will always return to its original shape. Rigid metal and plastic spacers cannot compensate for the natural expansion and contraction that occurs daily in insulating glass. Without all – foam Super Spacer, windows can develop stress cracks that eventually lead to seal failure. Super Spacer's 100% memory formula will stand up to a wide range of temperatures.

DURABILITY Super Spacer's outstanding durability is directly related to its edge seal design. Conventional dual-seal technology first lays down two polyisobutylene (PIB) moisture-barrier side beads on a metal spacer, backing them up on the outside with a structural sealant to hold the spacing system together.

Super Spacer, however, reverses the process. Its structural seal is on the inside – preapplied to the spacer itself. This takes the form of a pressure sensitive, acrylic adhesive
acked up by hot-melt butyl or a comparable, low permeable sealant on the outside, where a gas/ moisture barrier seal can do the most good. The result is an unbelievably durable double seal that provides for amazingly consistent seal quality.

GET THE FACTS… GET THE BENEFITS!
WORLDWIDE STANDARDS
Super Spacer has been tested and has met the following global standards:
North America E2188/E2189/E2190
ASTM E330 (120* psf positive, 155* psf negative)
French Standard CSTB for CEKAL.
Passive House phA+ certificate for Arctic climat
Industry type P-1 testing.
IF ONLY THE STRONG SURVIVE, then we'll outlast all the rest. All Super Spacer products meet the challenge of the P-1 chamber, the test many engineers consider the world's toughest. One week spent in a P-1 chamber is equivalent to one year in the field, and Super Spacer survives with long term P1 performance with a low seal failure history within the industry.
The warmest edge among dual-seal systems.
+14.4°F / 8°C
warmer temperature at the edge of the glass
Outside 0°F/-17.8°C ± 2°F/-1.1°C
Inside 70°F/21.1°C ± 2°F/-1.1°C
WHEN IT'S COLD OUTSIDE,
METAL TYPE SPACERS CAN
DRAIN THE ENERGY OF YOUR
HIGH PERFORMANCE WINDOWS.

Simulations performed by WSP Canada Ltd. using Window 7.4 and Therm 7.4, according to NFRC 100-2014 and NFRC 200-2014. All models were 1200 x 1500 mm (approx. 48" x 60") and NFRC-2010 conditions – 0°F outside, 70°F inside – were used for all simulations. Low-e glass for double-pane IG was Cardinal Low-E² 270; low-e glass for triple-pane IG was Cardinal Low-E³ 366. All air spaces 0.500" wide, with 90% Argon fill. Doubles were modeled as IG units only and in Mikron 1400 series SSTDH; triples were modeled as IG only and in Mikron 10700 (EnergyQuest) series SSTDH. Secondary sealant materials and depths are as listed. Temperature values shown are from modeling results, and were measured at the sightline (SL) and at 0.5" above the sightline (SL+½"). thick. Super Spacer®, Duralite® and Duraseal® are registered trademarks of Quanex Building Products. Intercept® is a registered trademark of GED Integrated Solutions. XL Edge™ and is a trademark of Cardinal Glass Industries. [QBP17M00614]
Get a free estimate on any window or door replacement
Weather Pro Windows & Doors are known for providing courteous service and knowledgeable advice on all our energy efficient products.
Click here